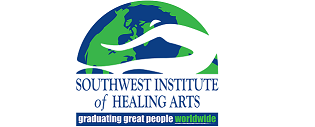 Southwest Institute of Healing Arts
1538 E. Southern Ave. Tempe, AZ 85282
Please Note: If your course has a supply fee, you will be charged for that fee automatically on the card you use for payment.
Please review the course description to determine if there is a supply fee.
Thank you!
Ground your yoga practice in the wisdom of past Masters. Expand your yoga practice with the understanding of personal experience. . This foundational class serves as an exploration of yoga as a path of unity. An exploration of yoga as a path of unity, with a focus on asana, breathing, ancient wisdom through modern voices, history, yoga anatomy and more. Embrace the full potential that is your birthright and rediscover the teacher within. Supply $15 Text: $127 For Students Paying PER Module - Enrollment and payment into YO 119 YTT Practicum is required with Yoga Module I to obtain your complimentary studio membership, receive credit for observations and to be eligible to teach practicums.

| | |
| --- | --- |
| Session ID: | YO 111 (S01) - 08/15/2022 |
| Dates: | Aug 15, 2022 - Sep 19, 2022 |
| Time: | M-Th 10am-1pm |
| Instructional Hours: | 60.0 |
| Seats Available: | 27 |
| Tuition: | $1080.00 |
| Price: | $1080.00 |
| Registration End Date: | Aug 15, 2022 12:00 AM |
| Comments: | |
| | |
| | |
| --- | --- |
| Session ID: | YO 111 (E01) 9/12/2022 |
| Dates: | Sep 12, 2022 - Nov 7, 2022 |
| Time: | M/W 6pm-9:30pm |
| Instructional Hours: | 60.0 |
| Seats Available: | 34 |
| Tuition: | $1080.00 |
| Price: | $1080.00 |
| Registration End Date: | Sep 12, 2022 12:00 AM |
| Comments: | |
| | |
| | |
| --- | --- |
| Session ID: | YO 111 (E01) - 1/10/2023 |
| Dates: | Jan 10, 2023 - Mar 7, 2023 |
| Time: | Tues/Thurs: 6pm - 9:30pm |
| Instructional Hours: | 60.0 |
| Seats Available: | 50 |
| Tuition: | $1080.00 |
| Price: | $1080.00 |
| Registration End Date: | Jan 10, 2023 12:00 AM |
| Comments: | |
| | |
| | |
| --- | --- |
| Session ID: | YO 111 (FT01) - 2/20/2023 |
| Dates: | Feb 20, 2023 - Mar 23, 2023 |
| Time: | Mon-Thurs 10AM-1PM |
| Instructional Hours: | 60.0 |
| Seats Available: | 40 |
| Tuition: | $1080.00 |
| Price: | $1080.00 |
| Registration End Date: | Feb 20, 2023 12:00 AM |
| Comments: | |
| | |
| | |
| --- | --- |
| Session ID: | YO 111 (E01) 5/10/2023 |
| Dates: | May 10, 2023 - Jul 17, 2023 |
| Time: | Mon/Wed 6PM -9:30PM |
| Instructional Hours: | 60.0 |
| Seats Available: | 50 |
| Tuition: | $1080.00 |
| Price: | $1080.00 |
| Registration End Date: | May 10, 2023 12:00 AM |
| Comments: | |
| | |
| | |
| --- | --- |
| Session ID: | YO 111 (E01) 8/1/2023 |
| Dates: | Aug 1, 2023 - Sep 26, 2023 |
| Time: | Tues/Thurs: 6pm - 9:30pm |
| Instructional Hours: | 60.0 |
| Seats Available: | 50 |
| Tuition: | $1080.00 |
| Price: | $1080.00 |
| Registration End Date: | Aug 1, 2023 12:00 AM |
| Comments: | |
| | |
| | |
| --- | --- |
| Session ID: | YO 111 (FT01) - 8/21/2023 |
| Dates: | Aug 21, 2023 - Sep 25, 2023 |
| Time: | Mon-Thurs 10AM-1PM |
| Instructional Hours: | 60.0 |
| Seats Available: | 30 |
| Tuition: | $1080.00 |
| Price: | $1080.00 |
| Registration End Date: | Aug 21, 2023 12:00 AM |
| Comments: | |
| | |